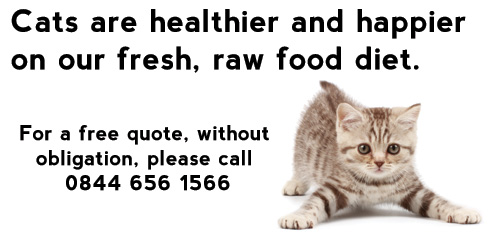 Click here to return to main site...
Given how smart cats are, you can be certain that if cooked or dried food was good for them, they would be making it themselves. In actual fact, a cat's natural diet is both raw and fresh. It consists almost entirely of small prey eaten, as it were, whole. This is because they need not just the meat but also the bone (which contains vital nutrients and vitamins) to stay healthy.
Sadly, cat food manufacturers don't seem to realise this, as a quick look at any cat food label will tell you.
We knew the importance of feeding cats raw food when we launched Honey's Real Dog Food because we have cats of our own. Nevertheless, on the basis that we are only a small, family-run business we decided that we would focus on one thing to begin with – dogs.
Of course, we have always fed our own faithful felines Honey's but we really didn't expect anyone else to. So, we were surprised by a steady stream of inquiries from other cat lovers and, in response, we have pulled together some basic information about feeding our food to cats.
In the future, we plan to create a special cat food range and – of course – a special website. But in the meantime, you'll find the key facts here.
For a free quote or more information, without obligation, please call 0844 656 1566